Today i acquired a "real" parabolic dish. Tomorrow i'll be upgrading the old "wireless-n salad bowl"
to the "wireless-n dish that shaw/starchoice didn't care to have back"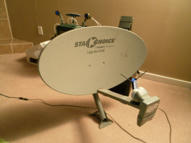 I'm gonna place this s.o.b. in my kitchen window & NO un-secured network is gonna be safe from me surfing its internet connection. I almost broke down this week & signed up for an internet connection... then this beauty came along! lmao... im so cheap!